The blog fairy visited my blog while I was sleeping & when I awoke my blog had 3 columns (woohoo, more room.) My blog fairy was Lea from
ClosetWriter
, a big thank you & shout out to Lea, check out her terrific blog. The fantabulous Diane from
The Book Resort
has very kindly awarded me with this gorgeous award - The Heartfelt Award.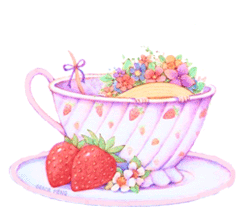 Diane says "Do you reach for a cup of cocoa or tea when you're relaxing, seeking comfort, sharing a plate of cookies with family & friends? You know that feeling you get when you drink a yummy cup of cocoa, tea ~ or a hot toddy? That is what the Heartfelt award is all about, feeling warm inside : ]. I wanted to create something to express that toasty feeling." The Rules:1) Put the logo on your blog/post. 2) Nominate up to 9 blogs which make you feel comfy or warm inside. 3) Be sure to link to your nominees within your post. 4) Let them know that they have been nominated by commenting on their blog. 5) Remember to link to the person from whom you received your award. I'm sending this one out to Lea @
ClosetWriter
Alaine -
Queen of Happy Endings
Annie @
Reading, Writing & Ranting
Lilly @
Reading Extravangaza
Caspette@
The Narrative Causality
I also received the Your blog is Enchanted Award from Lilly at Reading Extravaganza, thanks Lilly, isn't Tink just adorable!
The only requirement for this award is that you shared it with whomever you like, sharing the love is always a good thing. The blog has to show only one characteristic, caring. So, start sharing this enchanted award with five other bloggers. Let your bloggers know they have received this enchanted award. (Remember, fairies are fickle wee things, don't incur their displeasure by ignoring their gift)
I'm passing this one on to
Marie @ The Burton Review Diane @ The Book Resort Alaine @ Life of a Mad Scrapper Scatty @ In My Head Bookfan Mary
A big thank you & shout out to the these bloggers for the following awards which have already been shared :-)
Serena from Savvy Verse and Wit for the One Lovely Blog Award Lilly from Reading Extravaganza & Kwesi from Sweet Reads for the Super Comments Award